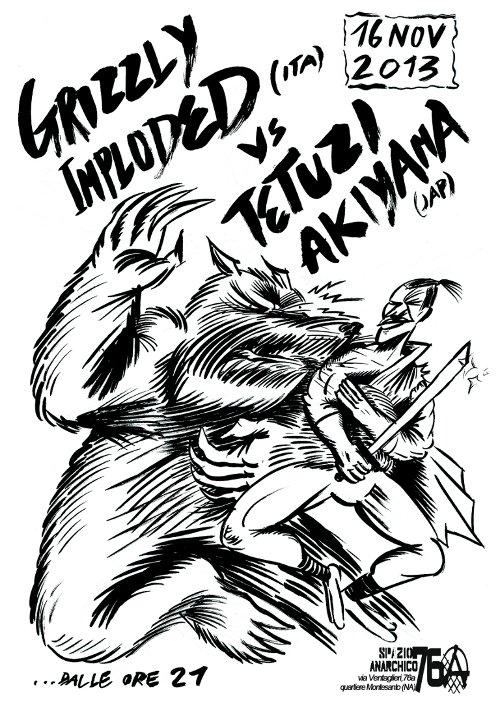 Titolo: tetuzi akiyama + grizzly imploded
Luogo: spazio anarchico 76(A) | via ventaglieri, 76a – napoli
Descrizione:
TETUZI AKIYAMA (Jap) Guitar player
Highly unique and experimental guitarist and bastion of the radical Japanese underground heavily applying free improvisation and noise.
Tetuzi Akiyama has recorded and performed with an extensive legion of composers and artists both in Japan and abroad, Toshimaru Nakamura, Oren Ambarchi, Jason Kahn, Noel Akchoté, Tom Carter, Michel Henritzi, Gunter Muller, Jozef Van Wissem, Tim Barnes among the others, appearing on labels such as Locust Music, Staubgold, Bottrop-Boy, Corpus Hermeticum, Digitalis and Antiopic.
He specializes in creating music with elements of both primitivism and realism by connecting his own aspirations, in a minimal and straightforward way, to the special instrumental qualities of the guitar. Sometimes delicately and sometimes boldly, he controls sound volumes ranging from micro to macro, in an attempt to convert the body into an electronic entity.
http://www.japanimprov.com/takiyama/
GRIZZLY IMPLODED (Ita) 2 guitars and a drums for an oppressive and spontaneous growl
http://grizzlyimploded.wordpress.com/

Ora inizio: 21:00
Data: 2013-11-16